Investors & Media
Corporate Profile
Phathom Pharmaceuticals is a biopharmaceutical company focused on developing and commercializing novel treatments for gastrointestinal (GI) diseases. We have licensed the exclusive rights in the United States, Europe, and Canada to vonoprazan, a first-in-class potassium-competitive acid blocker (PCAB). The Company has assembled a team of seasoned gastrointestinal and pharmaceutical industry experts with deep expertise in developing GI therapeutics, including anti-secretory agents.
Phathom currently markets VOQUEZNA® (vonoprazan) tablets for the treatment of Erosive GERD and associated heartburn in adults, in addition to VOQUEZNA® TRIPLE PAK® (vonoprazan tablets, amoxicillin capsules, clarithromycin tablets) and VOQUEZNA® DUAL PAK® (vonoprazan tablets, amoxicillin capsules) for the treatment of H. pylori infection in adults. In addition, the company is also actively investigating the use of vonoprazan as a treatment for Non-Erosive GERD.
For full prescribing and safety information, please visit VOQUEZNA.com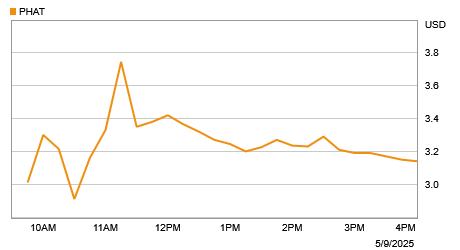 Data Provided by Refinitiv. Minimum 15 minutes delayed.
Latest Events
Nov 29, 2023 at 4:15 PM EST
Nov 15, 2023 at 2:25 PM EST